Hall of Fame
Here we are backstage somewhere circa 1989 with Keyboard player Bob McBain in back next to Guitar player Kevin Russell and Drummer Cedric Wilmont- lots of hair in those days!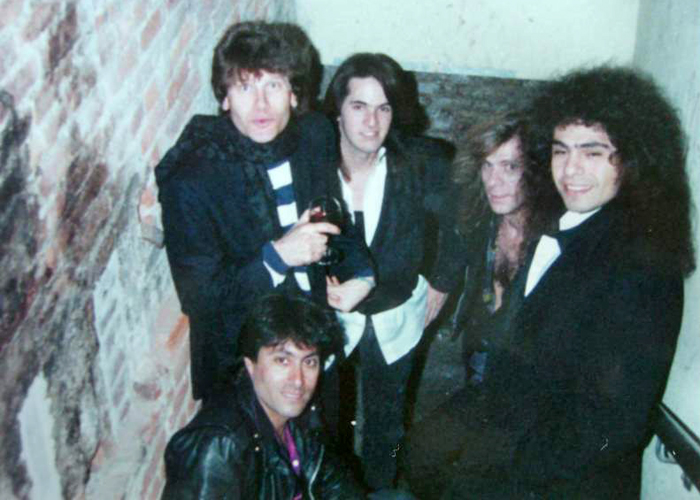 Here is one of my favorite all-time songwriters, Graham Parker. I think his 'Squeezing Out Sparks' record is one of the top ten all time. One of the most under-rated songwriters. I had the opporutnity to open for him at the Mystic Theater in Petaluma, CA.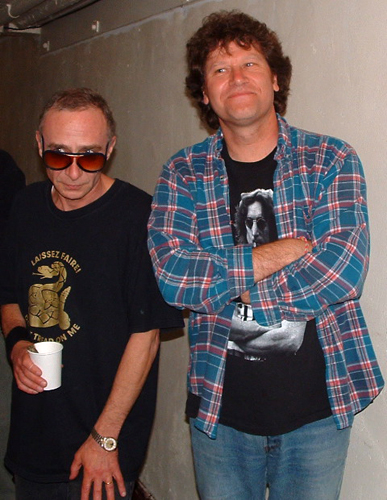 At the Fillmore opening for my childhood hero Peter Green of Fleetwood Mac. Peter Young on the far left and Drummer Dean Johnson both great players. Peter died of a heart attack just a few years later he was 48 , I wrote a song on "Four Chord Wonders" called 'Everything's gonna be all right" and the first verse is about him.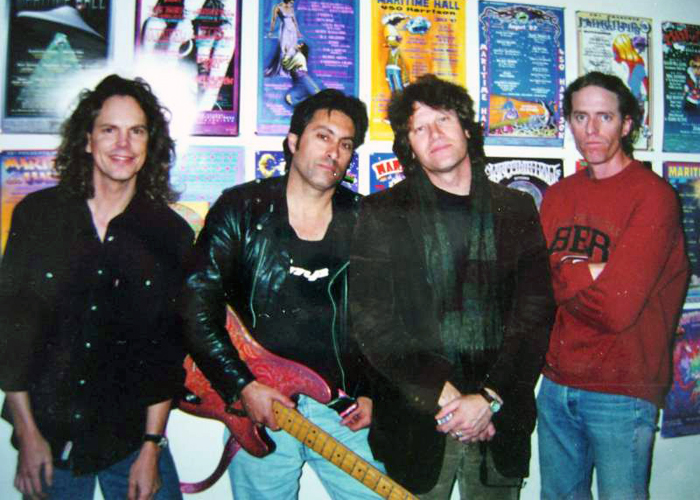 Here we are Backstage at the Concord Pavilion with one of my all time heros Buck Owens. We opened the show and when we were back in our dressing room Buck knocked on our door and asked if he could come in and have a beer! the nicest famous guy I have ever met. There won't be another like him ever , the best!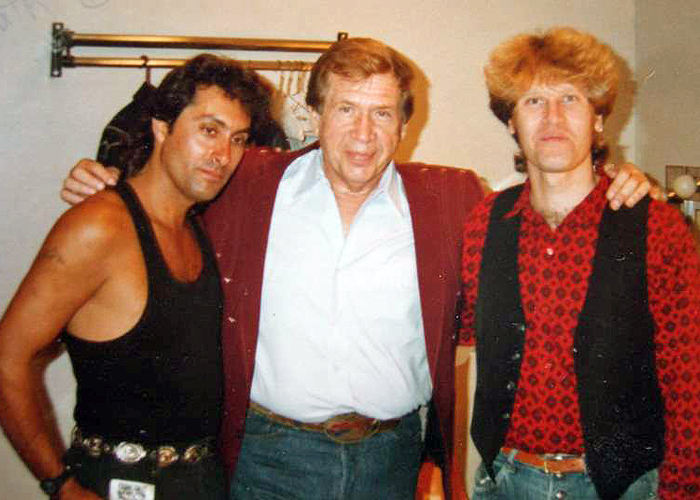 Rob and Joan Jett 2006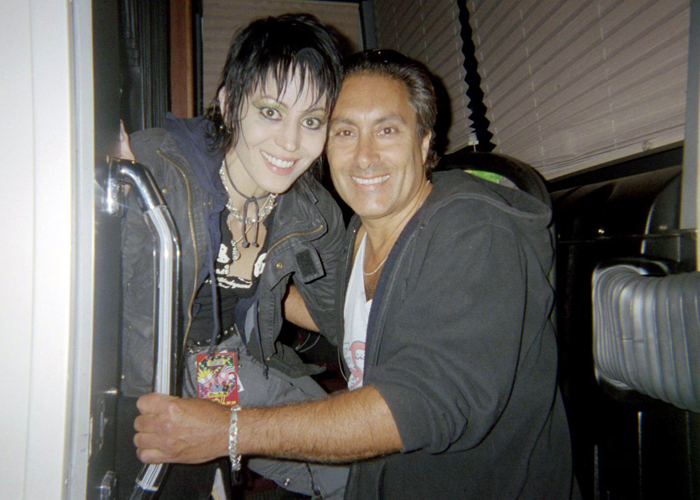 Our first big gig at the Warfield in San Francisco I almost walked back down the stairs when they introduced us I was so nervous.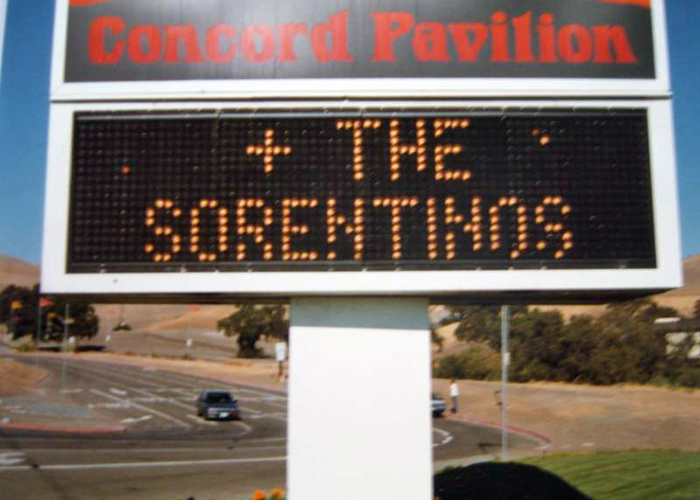 This is Rob and I with great blues singer Angela Strehli and her husband Bob Brown . Bob gave me my first publishing deal with his company Bobbalou we are backstage at the Mystic Theater in Petaluma, CA. Angela heard a tape of mine back in the late 80's and called the record store I was working at from her home in Texas and told me she loved the tape and the songs. This came at a time when I was totally depressed about the music buisiness and was gonna quit, her call kept me in the game.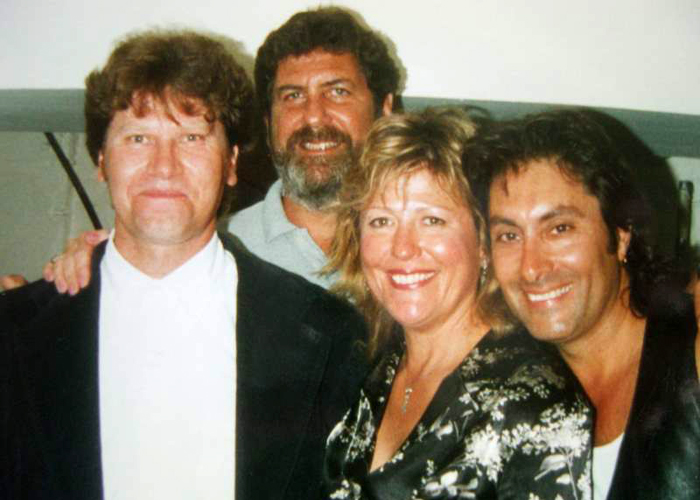 Two of the best looking men in Rock Rob and Chris Issak . We have played a ton of gigs with Chris over the years, a very nice guy and a great bunch of guys in his band drummer Kenny Dale Johnson comes to mind. This is circa 1988.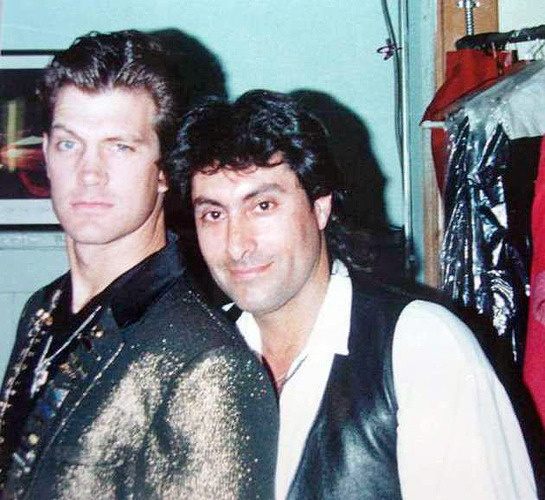 Here is Rob and I with drum legend and orginal Beatle member Pete Best. In the early ninties, I wrote a song called Pete Best Blues, which we released on our Love and Haight cd. At the time of this photo, Pete was out touring with his All Star Band. You gotta give it to him for hanging in there.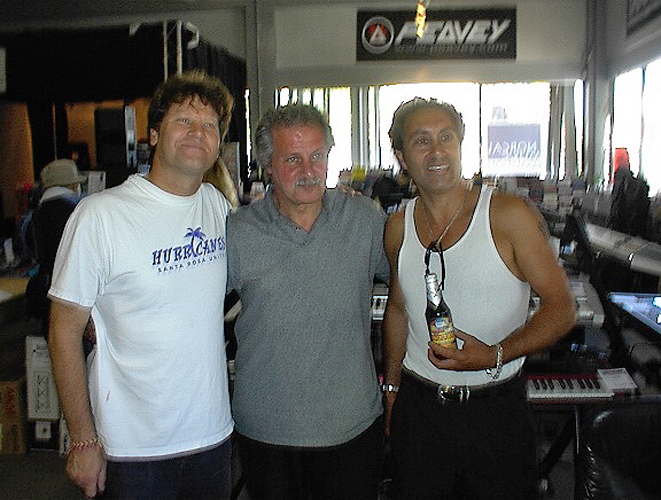 We opened for the Bacon Bros. a few years back. They were very nice guys, and here is Rob, Zero degrees of seperation from .....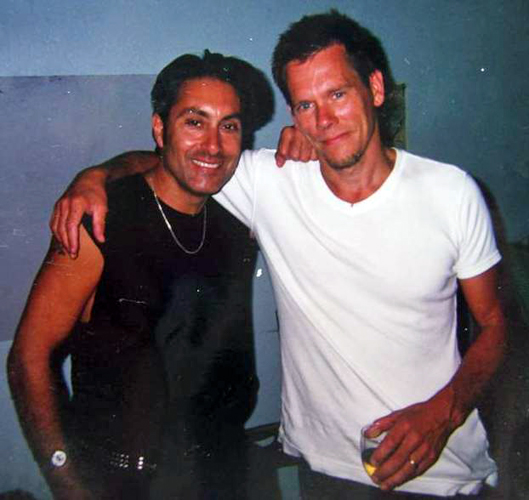 Here is me and Bill C Farlow, my mentor and tormentor. Billy recruited me when I was a young lad for his band in 1979. I was the youngst guy in the band by ten years and I learned a lot from al of the other musicians in the band. At that time, it was basiclly David Bromberg's touring band, so they were all steely veterans, including Billy. Billy C is the real deal. Although I was only in his band for a little over a year, I still carry the emotional and musical scars to this day. Here we are backstage, 25 years later, and we are still friends today. The Sorentinos opened up for Billy C and Bill Kirchen that night in Fairfax.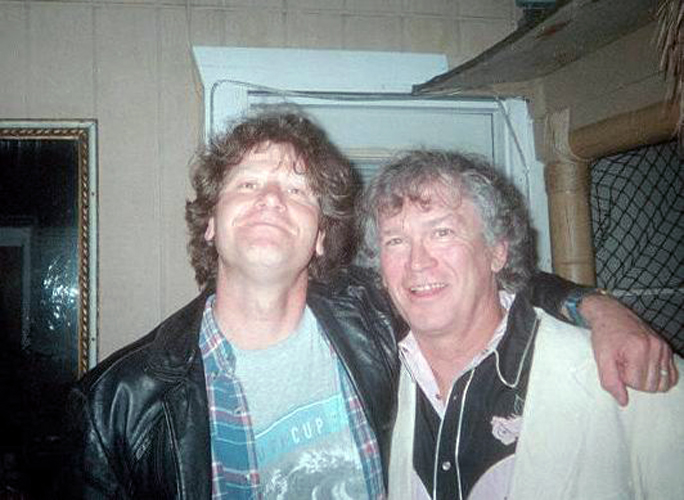 Here is a picture of Rob, with the great bass player/songwriter, Nick Lowe, signing Rob's celebrity bass.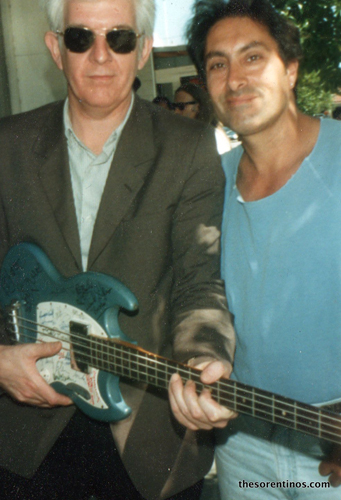 This is a great picture of me and one of my all-time heroes, Sal Valentino. Original member of 2 of my favorite bands, the Beau Brummels and Stoneground. Sal is one of the all-time great rock singers, with a very distinctive voice. And there was not a better live band on the bar circuit in the early 70's than Stoenground. saw them many times at the Inn of the Beginning in Cotati, great shows that I will always remember. The apex of hippie rock. Here we are at Rancho Nicasio after my show.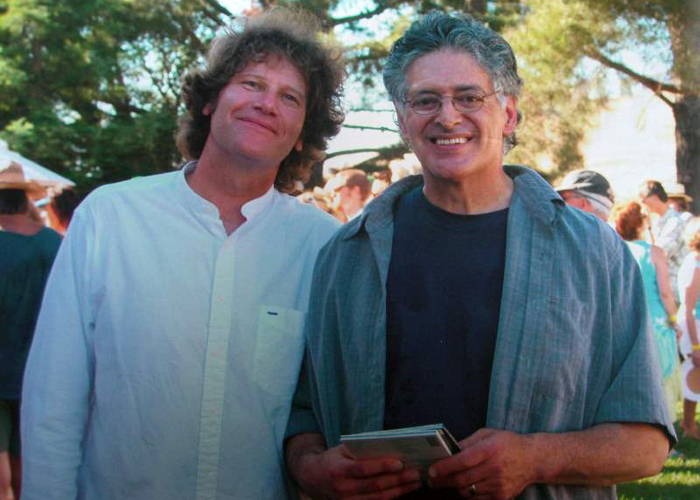 Rob and Huey Lewis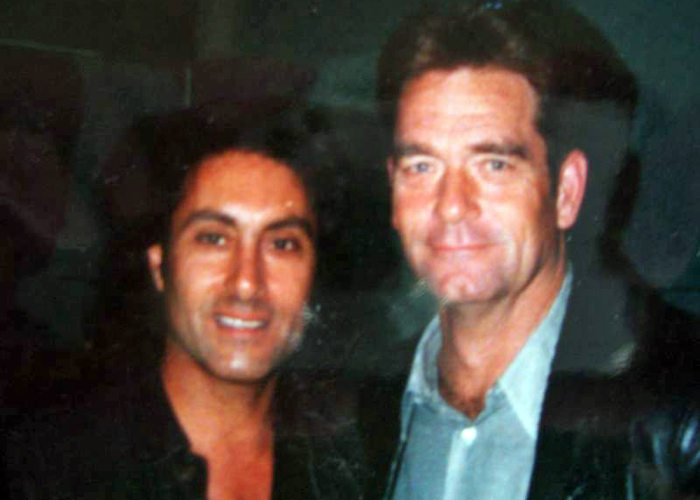 Rory and Charlie Watts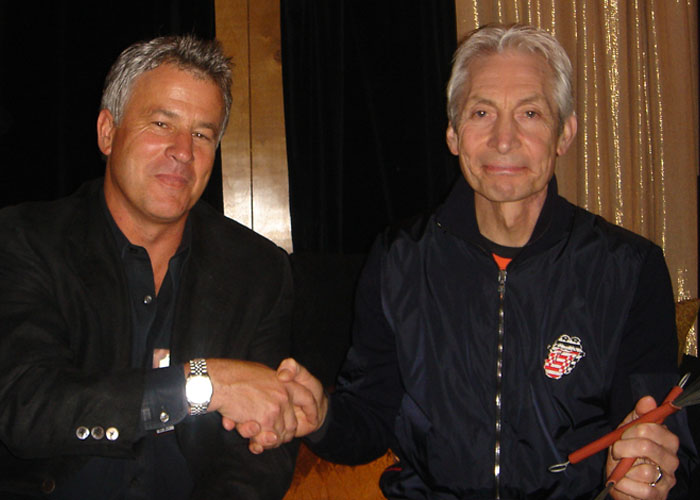 Here we are backstage at the Warfield Theater, getting ready to open for Bob Dylan. Instead of the normal dressing room, we were put in the janitor's cubicle so that we wouldn't have eye contact with Bob. I can still smell the Pinesol. Pictured left to right, me, Rob, Ian Hoffman and Howard.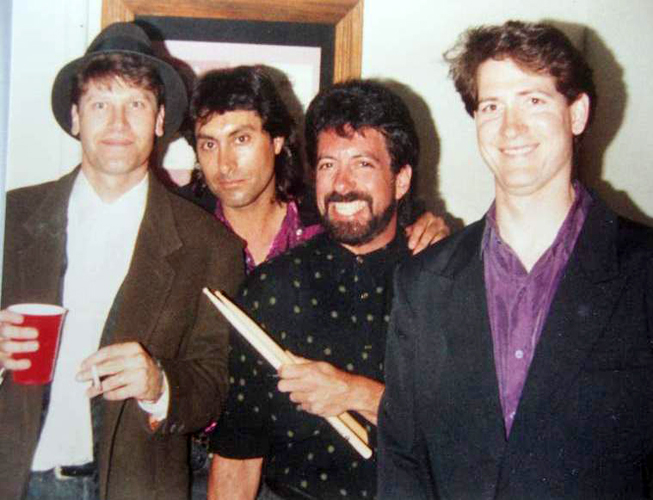 Here we are backstage at the Mystic Theater with Vinnie on drums , my friend of many years Steve Barbieri on guitar and Rob .This was probably between the first cd and the second.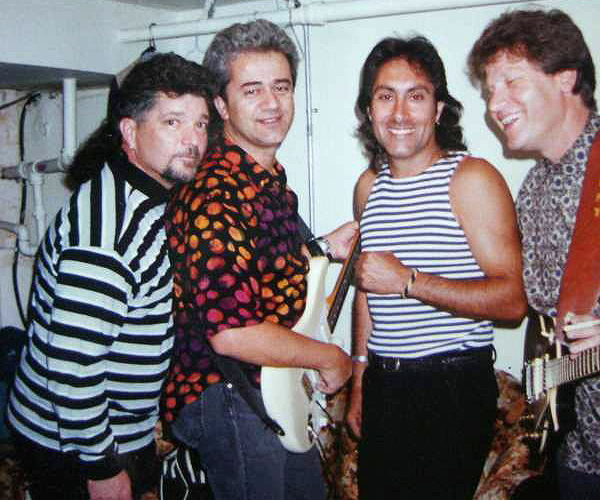 Danny and Howard jamming, opening for Dave Mason in Fairfax, CA.